Reasons to Choose Léargas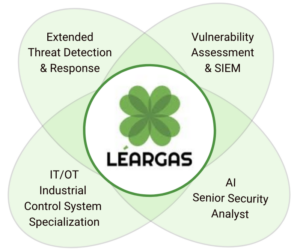 1. Sleep well at night with a specialized comprehensive solution. 
Léargas is an all-in-one XDR, Vulnerability Assessment, and SIEM solution for IT and OT Industrial Control Systems, On-Premise, and Cloud environments. The centralized platform monitors all layers of infrastructure in real-time.
2. Protect infrastructure with a limited budget.
Léargas understands that you may have limited budget and resources. In order to secure our nation's most critical infrastructure and data, we have created a comprehensive solution that scales to protect all assets and data with a price structure that is attainable for even the smallest EMC, rural government, or corporation.
3. Robust AI capabilities improve outcomes at a lower cost.
Leveraging our AI tools is equivalent to adding a $135,000+ Senior Security Analyst to your team.
4. Combining piecemeal solutions together costs more than just money.
Piecemealing various solutions together causes inefficient information sharing and a lack of actionable insight into rapidly evolving attacks. The combined cost to attempt to replicate Léargas protection starts at $955,000 per year not including the staff required to manage a disjointed approach.
5. Satisfy mandates and ensure compliance.
Positioned as a guardian of your cybersecurity framework, Léargas diligently meets the stringent criteria set forth by governing bodies, aligning seamlessly with standards such as NIST, PCI, PIPEDA, and SOC2. This assures robust defense against cyber threats and serves to fortify your standing in terms of regulatory compliance.
6. Rapid Deployment.
Subscriptions of Leargas can be activated in as little as 30 minutes.
What Our Customers Think
Trust & Execution
"We have been customers of Léargas Security for several years now. The professionalism and care shown by the entire team has been excellent. As the manager over a small IT Department for a rural electric utility, time and manpower is a precious commodity. Léargas Security's skilled staff and platform provides a level of security that I could not otherwise achieve. It is impossible to prevent all incidents from happening. I believe the key to limiting any incident is early discovery and mitigation. I have contracted with other security operations centers before, but none have been as responsive, alert, and knowledgeable as the engineers and staff at Leargas. "
Michael M.
Electric Cooperative
"I've been extremely pleased with the relationship we have formed with the employees of Léargas Security. They are very professional and have done a very thorough job of working with us to protect our systems. The daily reports are very detailed and I really appreciate the monthly updates. They do a really good job of working with our employees and third-party vendors."
Steve S.
Electric Cooperative
"I can honestly say that working with Léargas has given our IT staff the peace of mind to sleep soundly knowing that we have a dedicated Security Expert watching our backs 24/7. This is a no-brainer and money well spent as far as we are concerned. I am thankful daily that we found Léargas."
Herman T.
Government
"Léargas Security has exceeded our expectations with their dedicated support and unwavering commitment to securing our organization. I am able to sleep well at night knowing they have my back."
Daniel S.
Government